Meet The Team
Creating Authentic American Cuisine with a Coastal Flair and Distinctive Flavors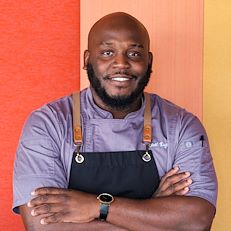 Joël Eugène
Executive Chef
Joël Eugène
Executive Chef
Joël Eugène Born and Raised in Laplèn Haiti. Joël took a chance one day by knocking on the back door of the kitchen of the Ashmont Grill, a Dorchester neighborhood restaurant serving American cuisine. After telling the chef he wanted to learn how to cook, he was told to come back the next day. He would worked there part time as a garde manger cook. Months later, he would joined the Harvard club of Boston, a prestigious private city club where he would cook full time in the morning and attend Le Cordon Bleu College of Culinary Arts at night. During his time in New England, he worked at different country clubs in the south shore and northwest of Boston. He worked as Banquet and Executive sous chef at multiple hotels and restaurants throughout Boston, Massachusetts and Newport, Rhode Island. Chef Joël took the role of executive chef at blu violet and has been instrumental in curating an authentic and inspiring menu with a fusion of flavors inspired by his heritage and unique vision.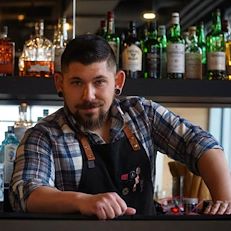 Justin Silmon
Mixologist
Justin Silmon
Mixologist
Coming out of Las Vegas, Nevada and growing up around southeastern Massachusetts, Justin has been in the service industry since 2008. He began at small restaurants in the area and became a bartender eventually making it his career choice in 2013. Eventually settling at Stoneforge Tavern and Publick house where he continued education earning his Spirits Professional Certification from the United States Bartending Guild and Certified Bourbon Professional certification from the Council of Whiskey Masters as well as his Bourbon Whiskey Stewardship from the Stave and Thief Society. He went on to work in Russell House Tavern in Harvard Square and after taking some time away after March 2019 returned to the industry to work at blu violet at the Aloft hotel in Providence.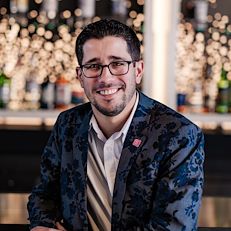 Steven Simas
Food and Beverage Operations Manager
Steven Simas
Food and Beverage Operations Manager
Born in Westerly Rhode Island, Steven grew up in Stonington Connecticut and has worked in the hospitality industry for the last 22 years. Steven began his hospitality career working at the age of 15 as a bus boy for a local restaurant in downtown Westerly, where he worked throughout his High School and College years. In 2007, after graduating from Johnson & Wales University, Steven continued down the Hospitality career path and began working for the Kraft Group at Gillette Stadium, having an instrumental role with the opening of CBS Scene Restaurant and Bar. Early in 2010, deciding to surf away from restaurant industry, Steven jumped ship and sailed over to the Renaissance Hotel Boston Patriot Place as Assistant Beverage and Food Manager. The next stop for Steven was a summer season in Newport in 2013, and he landed back in Providence at the Renaissance Hotel as Event Operations Director in early 2014. Steven joined the opening team of Aloft Providence Downtown in October of 2021 as Food and Beverage Operations Manager.